Modular Plug
Modular Plugs for Solid Cat5/Cat5e Ethernet Cable, RJ11 Plug for Flat Stranded Phone Cable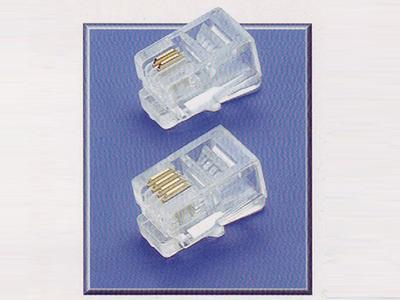 Description
The modular plug meets FCC standards, and is just a single component that cannot be used alone. Any equipment with telephone communication or internet connection can be paired with it, making it applicable for a variety of uses in the communication industry, including telephones, fax machines and more.
Parameters
Performance parameter


Mechanical durability: 500 minimum insert and extract

Contact resistance: <0.5Ω

Insulation resistance: >100MΩ

Compression strength: AC 1.0KV (50Hz for one minute), leakage current≤2.0mA, without breakdown or flashover phenomena.

Adaptive temperature: -20℃~+60℃

Adaptive humidity: 0%~96%

Materials


Case shell: transparent PC

Chip connector: gold plated pure copper
Features
The case shell utilizes a PC material, which features a better ductility, hot and cold resistance. The superior tenacity ensures the long retaining pin service life.
The chip connector uses gold plated pure copper, which features an excellent corrosion resistance, oxidation resistance, electrical conductivity and contact resistance.
The thickness of plated gold is available in a variety of settings, including: Fu", 3u", 6u", 15u", 30u", 50u", etc.
Our company provides all kinds of the accessories for multiline phone systems, networking and communication systems. If the color, shape and jack types do not satisfy your demands, please tell us your needs, and we can customize phone accessories upon request.